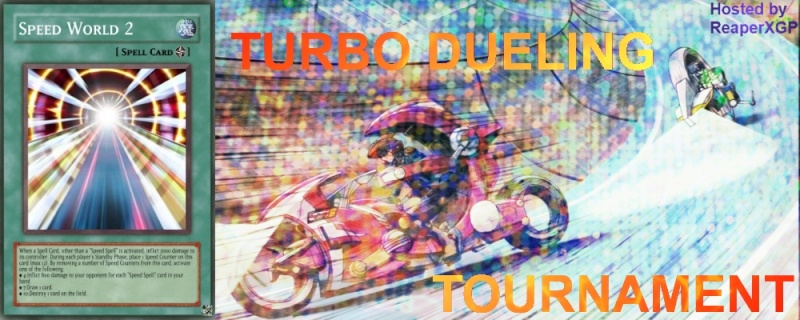 Starting date to be announced
Sign Ups
http://www.prorevolution.net/t173-sign-ups-turbo-dueling-tournament#562
Greetings and welcome one and all to Reapers Turbo Dueling Tournament!
Here we will be dueling with Turbo Duels on Percy so get your decks ready and follow the deck rules.
Most importantly remember to have fun and be creative![/center]
Yes yes the rules section. This is in no ways demeaning anyone's idea. [/center]
1. Like our Role Play section, no FTK, Burn, Stall, Exodia, Countdown, Destiny Board, or Deck out Decks. Match Duels so side decks allowed.
(sorry team unicorn fans, the monsters aren't banned but if your deck revolves around deck outs its banned.)
2. No XYZ summoning
(Maybe in a future tournament well include them but for now its too difficult to determine whats fair to use and what isn't.)
3. We will be using the custom ban list below.
(This will free up some deck types but remove the current cheapness out there.)
4. All decks will be submitted at sign up to be confirmed by myself and one other mod or higher that isn't dueling in the tournament.
Each deck must contain Speed World 2 and can be 40-59 cards each.
5. Remember to have fun with the Tournament. Yes Prizes are at stake but don't take it too seriously.
----------------------------------------------------------------------------------------------------
Since people are having trouble reading. Im posting only the long form. The short form was just for the changes made to the current banlist.
Ban List Long Form
Spoiler:
Prizes to be determined by the number of participants